Archie Roach and Ruby Hunter. Photograph: phra ajahn ekaggata/Courtesy of Wash My Soul Productions
With help from the Victorian government, a sculpture honoring the late First Nations musicians will be displayed on the streets they were familiar with the following year
Archie Roach and Ruby Hunter, two late singer-songwriters who were companions in both life and music, will be honored with a monument in Fitzroy the following year.
The Wurundjeri Woi-wurrung Cultural Heritage Aboriginal Council, Yarra city council, and representatives of Roach and Hunter's families will supervise the monument, which has not yet been commissioned or constructed.
The artwork will be unveiled in 2023 with a $287,000 contribution from the Victorian government.
Roach, a Gunditjmara and Bundjalung man, passed away at the age of 66 earlier this year after suffering from chronic obstructive pulmonary disease for many years. In 2010, 54-year-old Hunter of the Ngarrindjeri, Kukatha, and Pitjantjatjara people passed away.
Hunter and Roach were both from the stolen generations. They originally met in Adelaide when they were adolescents and both were looking for information about their family. They stayed together their whole lives.
With his 1990 song Took the Children Away becoming an iconic lament for the stolen generations, Roach would go on to become one of Australia's most adored and recognized performers. In 1994, Hunter became the first First Nations woman to publish a solo album, Thoughts Within.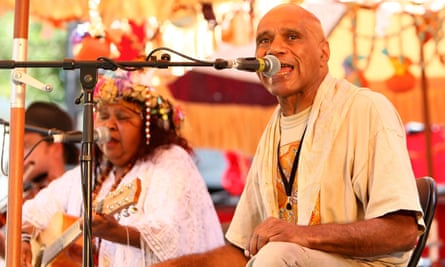 Ruby Hunter and Archie Roach perform together at the 2010 Sydney festival. Photograph: Don Arnold/WireImage
With Fitzroy, both enjoyed a lengthy relationship. The Victorian Aboriginal Health Service's initial location in Fitzroy, where it was originally formed on Gertrude Street in 1973, is where Roach got the name for his first album, Charcoal Lane. A young Roach was one of the "parkies" living in the adjacent streets; many of them had drifted to inner-city Melbourne in an effort to find their families after years spent on reserves and missions. The health service was a haven for these people.
Hunter made the trip from Adelaide to meet Roach again, and the two spent a long time living on Melbourne's streets. Hunter wrote the song Down City Streets, which can be found on Roach's first album, during that period.
Roach was chosen the Victorian of the Year in 2020. The funeral procession for Roach traveled through Collingwood and Fitzroy in August of this year on its way to Gunditjmara country for a private ceremony.
"I remember good times with my dear baby brother Archie in Fitzroy and Collingwood and Ruby right beside him. We shared many good times here together as a family," Myrtle Evans, Roach's sister, said. "Being back here reminds me of those times. I miss those times now. May the spirit of dear Archie and Ruby always be here."
Wurundjeri elder Uncle Colin Hunter said he hoped the statue would "elevate these two Aboriginal legends to their rightful place in Australian musical history, right on top."
"Uncle Archie's and Aunty Ruby's passion for their people inspired these gifted songwriters. They produced lyrics that not only touched the hearts of millions but educated a nation on the stolen generations," Hunter said.
"Their songs will endure, and their community work and kindness changed lives – through this sculpture we're ensuring that legacy lasts for generations," said Victoria's minister for creative industries, Steve Dimopoulos.
Thanks to Sian Cain at The Guardian whose reporting provided the original basis for this story.