Under the Shower (1964). Photograph: Courtesy: Privatsammlung Berlin und Schloss Biesdorf
The artist's first retrospective at Biesdorf Palace has been a pleasant surprise in what would have been his 90th year
In a shared shower, seven guys clean the perspiration off their well-toned bodies. Their limbs are hung in tantalizing closeness but never quite touch, unless you squint and mistake a firmly clenched bar of soap for something else.
The 1963 linocut image by German artist Jürgen Wittdorf, from a series titled Youth and Sport, could resemble an elite graphic book or the virulent illustrations of homosexual liberation hero Tom of Finland.
Even though the men's desires were obvious, the sensual shower scene was never meant to shock. A framed print, which was ordered by the East German government, hung for years in the stairwell of Leipzig's sports academy before being reprinted in a publication of the socialist youth movement run by the regime.
Sixty years later, Wittdorf, who faded into oblivion following the fall of the German Democratic Republic and passed away in abject poverty in Berlin four years ago, is seeing a resurgence due to the apparent friction between outward conformity and secret ambition. A first retrospective at the Biesdorf Palace gallery in what would have been his 90th year has been a surprising hit, bringing 13,400 people to Berlin's Marzahn neighborhood since its debut at the beginning of September.
Sports Students' Builders Brigade (1964). Photograph: Courtesy: Schwules Museum Berlin und Schloss Biesdorf
"What makes Wittdorf's work so fascinating is not only his masterful craft," said Karin Scheel, who curated the show with the gallerist Stephan Koal, "it's also the life lived we can glimpse from these images, of a sexuality that was suppressed and later embraced."
A year before West Germany, the German Democratic Republic decriminalized male-to-male sex in 1968, yet there were few public spaces where homosexual and lesbian lives could be enjoyed freely. Naturism did not become a popular movement until the 1970s; political efforts against "erotic bars" had been launched in the early 1960s.
The curator of Wittdorf's first solo show at Berlin's Schwules Museum in 2012, Andreas Sternweiler, said that "When it came to homosexuality, the east was as bourgeois as the west."
However, males were free to glorify their bodies in art, particularly in socialist realism's fetishization of a fit body. While working on the Youth and Sport cycle in 1963, Wittdorf had his first sexual encounters with other guys. He ultimately came out to a few close friends and other artists that same year. His obsession with the masculine figure transports the spectator to teams of bikers, Olympic swimmers, or construction workers taking a break for lunch. His female subjects are more aloof, with their arms crossed.
Swimmers (1964). Photograph: Courtesy: Sammlung Linkersdorff, Berlin und Schloss Biesdorf
Two years before, Wittdorf had gained his first followers with a collection of woodcut prints titled Cycle for Youth. In his photographs of teens sharing kisses in alleys, young couples riding motorcycles, or young dads balancing their children and grocery bags, young people in particular might see themselves.
The need for independent expression among young people piqued Wittdorf's attention, according to Jan Linkersdorff, a former student.
According to Scheel of Cycle for Youth, which sold thousands of copies, "the people in these pictures are self-confident in their own right, not because of the red flags they carry or political symbols they brandish."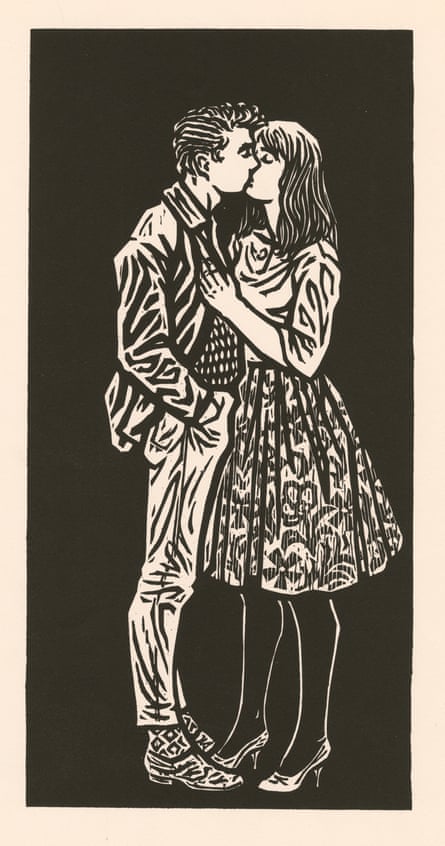 Young Couple, part of the Cycle for Youth series (1961). Photograph: Courtesy: Schwules Museum Berlin und Schloss Biesdorf
Older East Germans in particular continued to be dubious; detractors thought the Cycle for Youth series' young people were too westernized; newspaper readers complained in letters over a photograph showing a young guy keeping his hands in his pocket during a dreamy kiss with a petulant lady. Sternweiler said that the image was mostly personal, representing his early experience of being rejected by the other sex.
Wittdorf was uncomfortable with East German social customs, although he never overtly opposed the regime. He has been a member of the governing Socialist Unity party since 1957. He made a fortune teaching sketching to police and border guards, who later hired him to create a mural for their Berlin headquarters' cafeteria. In order to overcome the gap between intellectuals and the proletariat, a governmental initiative included mixing artists and laborers in creative "circles."
A floor-to-ceiling "Petersburg" picture arrangement, which Wittdorf himself used at home, is used to hang photos of punks with green hair next to men in uniform at the Biesdorf Palace exhibition, which is on display until February 2023. Above the elevator door, a touching image of Lenin is awkwardly held away from the others.
Wittdorf's income from employment as a teacher dried up with the fall of the German Democratic Republic. Even though he was now in his 60s, he continued to teach drawing courses to friends out of his flat but finally had to sell up his personal collection of antiques and the works of other artists to make ends meet.
His last works, which had been amassed in his Berlin flat, were auctioned off to pay off debts after his death. His former student Linkersdorff won the offer.
However, there were also aspects of life outside the controlled communist state that were disappointing. According to Sternweiler, whose 2012 performance allowed Wittdorf to get a taste of his own resurgence in the latter years of his life, Wittdorf was "embarrassed by his own artistic obscurity, but he also enjoyed the freedom he had gained." He enjoyed the greater diversity of the LGBT scene in West Berlin.
The subsequent paintings by Wittdorf return to his favorite all-male lineups, but this time the guys are dressed in leather straps and chaps, and neither the artist nor the subjects are trying to disguise their enthusiasm.
Thanks to Philip Oltermann at The Guardian whose reporting provided the original basis for this story.