The Victoria Hotel was once a symbol of all the things wrong in the Western Australian town of Roebourne. Now it has been reclaimed by the Yindjibarndi people and relaunched as the Ganalili Centre – an alcohol-free cultural hub. Photograph: Juluwarlu Group Aboriginal Corporation
Dark history was given new life as the former Victoria Hotel in Roebourne was converted into the Ganalili Center honoring Yindjibarndi culture
The historic Victoria Hotel in Roebourne (Ieramagadu), a two-story, dust-covered structure in the middle of a small town, has had a disproportionately significant impact on Australian history.
Here, in 1983, a group of inebriated, off-duty police officers confronted an Aboriginal man at the bottle store and started a fight on the street ("We'll get you, you black cunt," one allegedly yelled, according to witness evidence). John Pat, a 16-year-old Yindjibarndi lad who joined the fight, was witnessed by cops being kicked in the face and head while being taken into a vehicle. He died one hour later.
Pat's passing and the officers' subsequent acquittal by a white-only jury set off a national movement against Indigenous deaths in detention that resulted in the 1987 royal inquiry.
The hotel's history in the Pilbara town, however, dates back longer. The tavern was a focal point for all the destructive factors – alcohol, racism, violence, and underemployment – that led to Roebourne's reputation as "one of the most socially dysfunctional towns in Australia" from its founding during the gold rush of the late 1800s until its closure in 2005.
The Vic Hotel was empty and boarded up for years as a representation of all that was wrong with the community. Up until 2013, when the Yindjibarndi Aboriginal Corporation made the decision to take it back, restore it, and reopen it as a community centre in Roebourne.
A new song by Spinifex Gum, a project of Felix Riebl of the Cat Empire, featuring the Marliya choir, is about the center. Ganalili is a Yindjibarndi term that describes the light of morning after the blackness of night.
The husband and wife duo who have devoted their lives to protecting their culture, their land, and their community are largely responsible for the Ganalili Centre's survival.
Ganalili by Spinifex GumGanalili by Spinifex Gum
'This is a story that should be told': new light at the Vic Hotel
"We're Roebourne, born and bred," says Lorraine Coppin, sitting next to her partner, Michael Woodley, on a video call with the Guardian. "Roebourne kids. That's our home."
The two have worked together to mobilize local people to defend their hometown and fight land rights disputes that have reshaped the country. They have three pugs, six children, four grandchildren, and are two of the Yindjibarndi people's cultural guardians.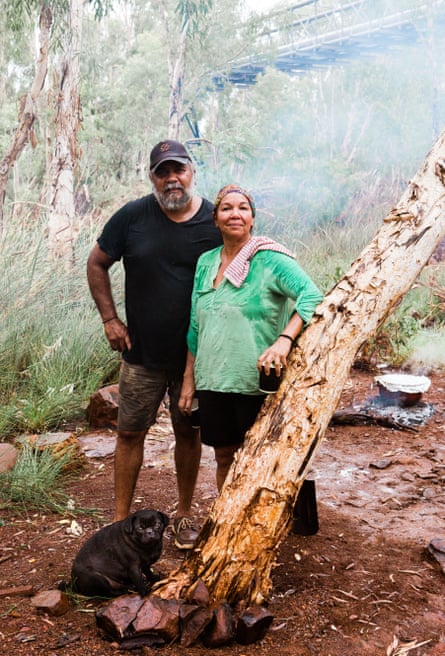 Lorraine Coppin and Michael Woodley on country in the Pilbara. Photograph: Juluwarlu Group Aboriginal Corporation
As the CEO of the Yindjibarndi Aboriginal Corporation (YAC), Woodley has guided his language group to a string of improbable victories over mining tycoon Andrew "Twiggy" Forrest. This ongoing conflict, which is the subject of Paul Cleary's book Title Fight due out in 2021, has caused a rift within the Yindjibarndi community. Coppin, on the other hand, oversees Juluwarlu Group Aboriginal Corporation, the cultural arm of YAC that includes a publishing division, a language preservation initiative, and a sizable Yindjibarndi cultural archive that has been gathering material for more than 20 years. A few nationally renowned organizations, including Yinjaa-Barni Art, Big hART, Cheeditha Art Group, and Wangaba Art Group, are located in Juluwarlu, including an arts center.
Despite the fact that the two live in Roebourne, which is really on Ngarluma property, Yindjibarndi country is located farther inland, between the Millstream tablelands and Fortescue River. However, they were evicted from their country by pastoralists in the 1860s and moved into nearby towns.
A few decades later, the gold rush occurred, and the Victoria Hotel was constructed to accommodate the influx of laborers into Roebourne. Once again, First Nations people were evicted, blocked off from Roebourne, placed under curfews, and transported to adjacent reserves.
The town was mostly abandoned until the 1960s, when an iron ore boom brought back miners. However, in a now-familiar injustice, those who had the strongest claim to the nation were barred from its wealth. After drinking privileges had been established, the Vic Hotel developed into a gathering place for the local Aboriginal community, who, according to Woodley, frequented it to escape the grim realities of their daily life. The Vic Hotel was located between the welfare office and the police station, according to a Spinifex Gum song line.
Until the sun goes down, says Woodley, who was born in 1973, the bar was "the place to be when we were growing up." He claims that "everything changes at night. It turns into a rather ominous setting.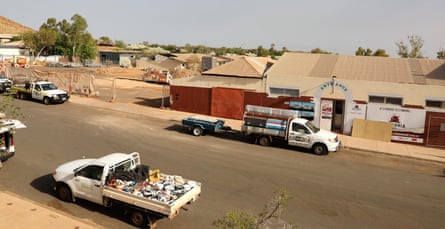 'For a long time Roebourne was seen as a place that is broken,' says Michael Woodley. Photograph: Juluwarlu Group Aboriginal Corporation
He says, "Alcohol brought out and still brings out the worst in people." He claims that it resulted in a cycle of misuse, the deterioration of traditional culture, and an extreme death rate in his community that persists to this day. According to Woodley, the majority of persons his age died 10 to 15 years ago. He is not quite fifty.
Coppin recalls the Vic Hotel as a "forbidden spot" when she was a child. There, bad things took place. That particular location is the source of every social issue in the neighborhood. We all need to keep that place's history and its deeds in mind.
The hotel remained idle for 14 years after it closed in 2005. The town center was no longer operating, despite being intended to represent the community's beating heart, according to Woodley. People would pass by and just see this old, boarded-up structure, which gave them a bad impression of the whole town.
So, in 2013, Woodley's organization YAC purchased the structure and began a $6 million renovation with help from the federal and state governments. Ganalili, a non-alcoholic cultural centre and outdoor space, was reopened in 2019 with the goal of giving back to the Roebourne neighborhood.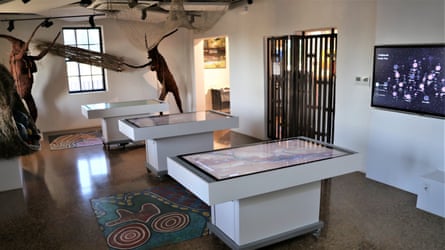 Displays at the Ganalili Centre in Roebourne. Photograph: Juluwarlu Group Aboriginal Corporation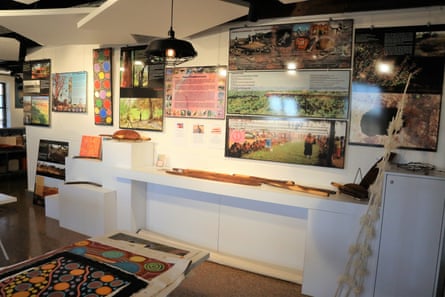 When Ganalili first opened, it had a storefront for Juluwarlu Art Group as well as a digital exhibit of Yindjibarndi culture culled from Coppin's archives, which featured animated touchscreen displays mapping family lines, landscapes, and creation myths. Riebl claims that as soon as he entered the venue and heard Spinifex Gum perform the opener, he was "struck to tears." "It was really astonishing how bright and truly interesting the place was. It seemed as if the town's center was expanding from there.
This is a story that should be told – of a community turning around, and gaining … genuine self-determination