Hannah Starkey's Beauty Shop, 2022. Photograph: Hannah Starkey/Maureen Paley, London and Tanya Bonakdar Gallery, New York/Los Angeles
Starkey's work has a strong connection to current notions of modern femininity because it uses fabricated and filtered images to show real women in real settings
For 25 years, Hannah Starkey has focused her camera on regular women. She captures demonstrators, assertive single mothers, and dreaming girls in her images. Whatever they are doing, they have a fleeting light that appears to illuminate their whole surroundings. It seems a particularly appropriate time for the Hepworth Wakefield to perform a survey since they are works that subtly eulogize women and how they occupy public space, especially in the aftermath of #MeToo and discussions about women's safety. One thing I've learned, adds Starkey, "is that those questions are always relevant. They are pushed back, and a critical mass then forms once again. Women have a lot of tenacity.
Although Starkey's work resembles street photography, she doesn't document women going about their daily lives on the street. Although her pictures may be inspired by what she has seen, the works straddle the line between fact and fantasy. The places and accessories used to create the seemingly brief moments were selected with care. She approaches ladies on the street and among her friends.
"I couldn't just stick a camera in someone's face: I thought that was really intrusive," she says. "I needed a system where everyone was happy with the process and it wasn't exploitative. I give someone my card and they go and think about the idea first."
Starkey made a name for herself with a 1997 Royal College of Art graduation exhibition in which she pioneered the feminine gaze. Two revelers fall out at an empty bar while secure in each other's protective orbit in one well-known picture of a female staring at herself in a greasy spoon cafe's mirror. But at first, she wasn't interested in writing about women. She admits, "I felt I was talking about the human condition. My images solely showed women, thus they were seen as being particular to women. Both women in society and photography in the art world experienced ghettoization. That became the driving force behind my whole career.
The photographer's interests have changed throughout the years as she has. She explains, "When I first started out, there was a very patriarchal attitude that a female artist couldn't be successful if she had kids. "To imagine that being a parent wouldn't be a rewarding experience was incredibly strange. I use what I learn from my two girls into my work and the other way around. I'm always searching. I never stop caring about these things because I have girls.
She often worries about the single mother, who is a particularly marginalized group. In terms of topic matter, "mothers were a difficult call," she claims. "Over there in the feminine section or whatever, not cool or seductive! However, it is precisely the justification. In Starkey's photographs, moms take on the role of real-life pioneers, carrying their infants on their hips while stomping through the concrete jungle or trotting over the snow like urban cowgirls.
The exhibition will be bookended by images of young women, ranging from her earliest, taken when she was a similar age to her subjects, to her most recent, commissioned by the Hepworth, which features Wakefield girls and is set in typical small-town teen hangouts like kebab shops, cinemas, and beauty salons. The initiative, according to her, was a "natural way to go in and ask, 'How's it going?'" "I basically ask women, 'How's it going?' throughout all of my work."
Three additional works by Hannah Starkey that explore the feminine gaze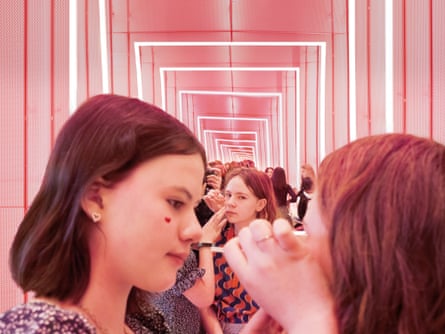 Untitled, March 2022. Photograph: Hannah Starkey; Maureen Paley/ Tanya Bonakdar Gallery
Unknown, 2022
In Wakefield, West Yorkshire, Starkey collaborated with youngsters to produce her most current images. I wanted to create images once again that were really empathetic, about the joys of photography and many ideas of beauty; how to see the world differently.
Cosmetics Store, 2022 (main image)
In this image, Starkey examines how "women are co-opted by the beauty industry from cradle to grave." One of those stores with cheap, endless plastic bottles. It's all wrong: the advertising that persuades you that you need it, vacuous consumerism.
Portrait of a Young Mother in Exile, 2013. Photograph: Hannah Starkey/Maureen Paley
Portrait of a Young Mother in Exile, 2013
Instead than being part of a series, each of Starkey's images of moms is intended to stand alone. She says, "I'm interested in how one photograph can contain narrative and layers that keep you there for a long time." This describes a woman who has chosen to live in exile and what it's like to raise a kid elsewhere.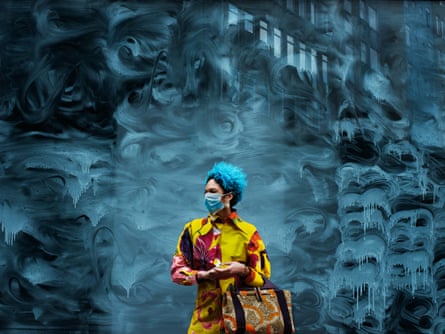 Untitled, 2020. Photograph: Hannah Starkey
Untitled, 2020
"Sometimes pictures push their own way into being and the world presents you with opportunities. I saw this window in Westminster on the way back from the Black Lives Matter march. Then this amazing woman walked past me a few days later and I approached her. It was an 'all in camera' photo [not retouched later]."
Hannah Starkey is at the Hepworth Wakefield, to 30 April.
Thanks to Skye Sherwin at The Guardian whose reporting provided the original basis for this story.