The Eastern ticket hall at Tottenham Court Road underground station shows wall artwork by Daniel Buren.
Photograph: Simon Turner/Alamy
This region of the city is brimming with intriguing venues featuring lesser-known and emerging artists, so would-be collectors will adore exploring it
Particularly in London, the art world has long had a keen eye for underappreciated or unused space. Instead of the galleries that thrived in the 1980s in Notting Hill and the 1990s in Shoreditch, today's Soho and Fitzrovia are home to modest spaces and independent dealers who represent a variety of artists.
It's a wise business decision since it makes it simple for collectors to check out emerging artists in Soho locations as well as the upscale Mayfair galleries. Additionally, it's a benefit for those who are merely window shopping and want to see fresh work in intriguing settings.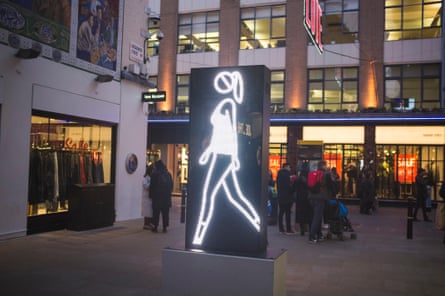 Julian Opie's Shaida Walking installation just off Carnaby Street. Photograph: Emma Swann/Alamy
This tour begins right in the centre of Soho, just around the corner from my gallery, and it will take you through a variety of public and private galleries. Julian Opie's artwork is located at the intersection of Broadwick and Carnaby Street. The always moving figure in this digital sculpture, Shaida Walking, looks like a nice place to start. Look up to view the moderately alarming Spirit of Soho community painting, which is a collection of neighborhood scenes topped by St Anne, a lady with flame-colored hair.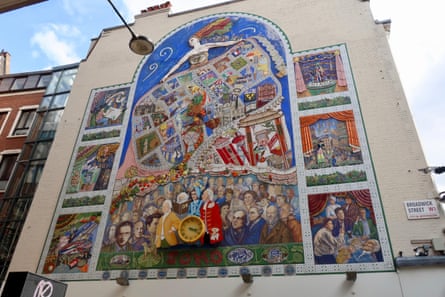 Spirit of Soho, Broadwick Street. Photograph: Angela Chalmers/Alamy
The Photographers' Gallery is reached by using the first alleyway on the left after turning right onto Great Marlborough from Carnaby's north end. The basement print sales gallery usually offers something of interest even if many of the exhibitions here need tickets. Continue along Great Marlborough after this rest break until you reach Berwick Street. Cross Oxford Street to the left and continue onto Berners. A stroll through the opulent Edition Hotel will bring you to the Alison Jacques Gallery. This commercial venue often hosts exhibitions by underappreciated artists, especially female artists who are farther along in their careers. Sheila Hicks and Mária Bartuszová are on her cast list.
From here, go down Whitfield Street and Goodge Street to reach Tottenham Court Road Tube station. Visit Castor Gallery and indigo+madder while you're there; they're newcomers to the neighborhood. From there, go to Oxford Street and the new Tube ticket hall, which has eye-catching Daniel Buren wall facades that no one in the commuting crowd notices.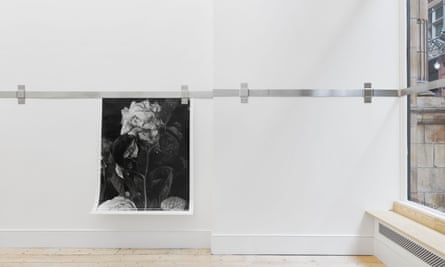 Sub Rosa by Joanna Piotrowska and FormaFantasma, at Phillida Reid. Photograph: Ben Westoby/Joanna Piotrowska/Phillida Reid
A fresh set of public areas will be available to you surrounding Centrepoint if you ascend the escalator on your right. Outernet, a brand-new entertainment area filled with immersive installations and displays, is located in The Now Building, an enigmatic new center created by Orms architectural company. While you're here, it's worth taking a look at, but as soon as you can, leave this dystopian portrayal of the arts of the future and go down Shaftesbury Avenue to Grape Street, where Phillida Reid has just started a new gallery. You may attend the Joanna Piotrowska and FormaFantasma performance if you act quickly.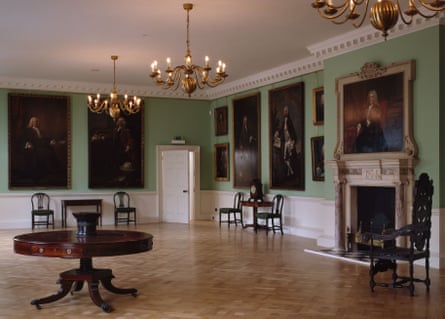 The Foundling Museum, London's first public art gallery. Photograph: Arcaid Images/Alamy
After that, turn right and go up New Oxford to Museum Street, where the Herald Street gallery is located at number 43. Artists like Pablo Bronstein and Nick Relph reside here. By turning right up Great Russell Street and then left along Southampton Row, you may bypass the crowds of visitors and colonial loot at the British Museum and instead access Queen Square through Cosmo Place. Your last stop is Brunswick Square Gardens, so turn north to get there. The former Foundling Hospital's grounds are where the Foundling Museum is located. The hospital was converted into the nation's first public art gallery with the aid of artist William Hogarth and musician Handel. As a result, we're starting again. An appropriate method to honor the art world's ongoing resurgence and regeneration.
At 23 Ganton Street in London, W1F, is Niru Ratnam. Matthew Krishanu's Playground is the following production.
Thanks to Niru Ratnam at The Guardian whose reporting provided the original basis for this story.